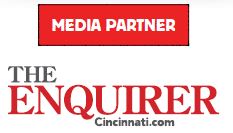 In May and June, 2015, Greater Cincinnati will celebrate Smale Riverfront Park Weeks. This will be a time to celebrate the completion of the park's newest features! It will also be a time to reflect on the vision that has revolutionized Cincinnati's historic downtown riverfront—transforming it from a virtual wasteland into a world class destination park that has already become a formidable economic engine for the region.
During the weeks long celebration, there will be lots of special programs, grand openings, and family-fun entertainment—including a community-wide carnival and concert that will herald the opening of Carol Ann's Carousel on May 16! So visit this page often for the latest news and announcements!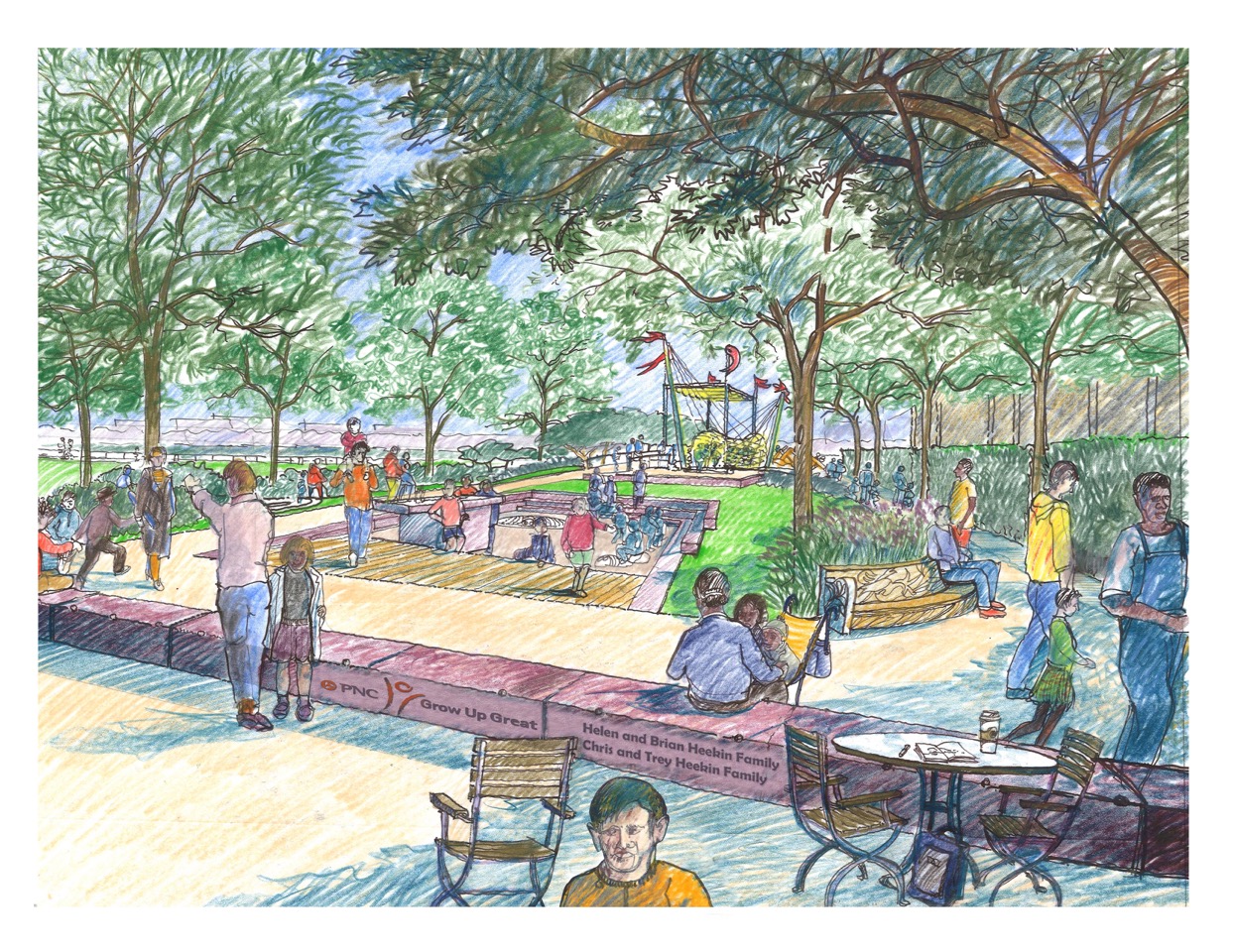 The Heekin Family /PNC Grow Up Great Adventure Playground—Saturday, May 9 — 11-1 pm
An innovative, fully accessible playground next to the Roebling Suspension Bridge that will contain a rock climbing canyon, log climbers, twin racing slides, a rope bridge, granite seating amphitheater and a fog-mist feature for cooling off on hot summer days.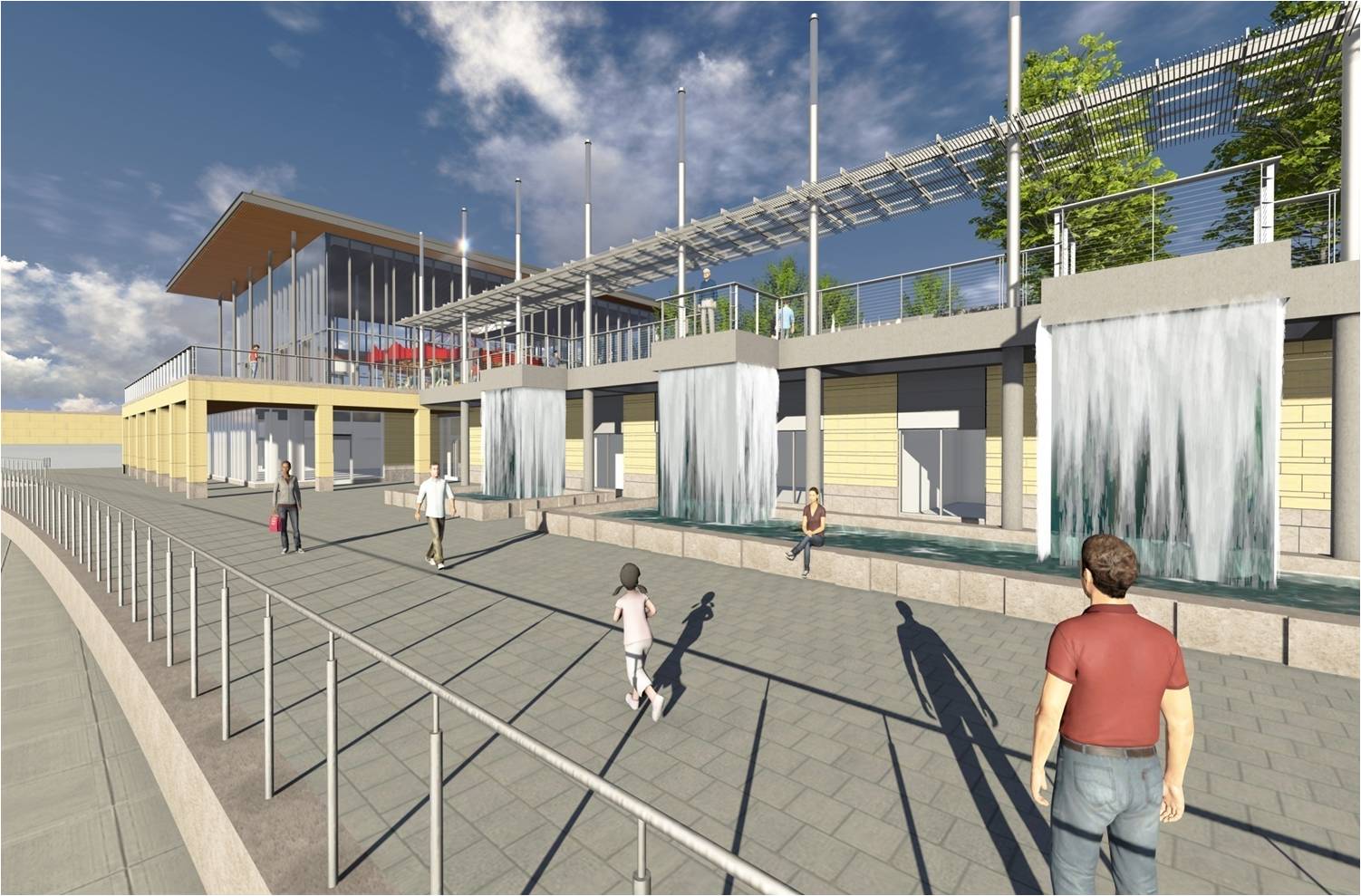 The Sue & Joe Pichler Family Fountains at Vine Street—Tuesday, May 12 — 5:30-7:00 pm
Steps aligning with Vine Street will be flanked by water cascades, illuminated with rainbow lights in the evening, and a plaza will contain fountains (splash and play!), a reflecting pool, water curtains, and glass balconies.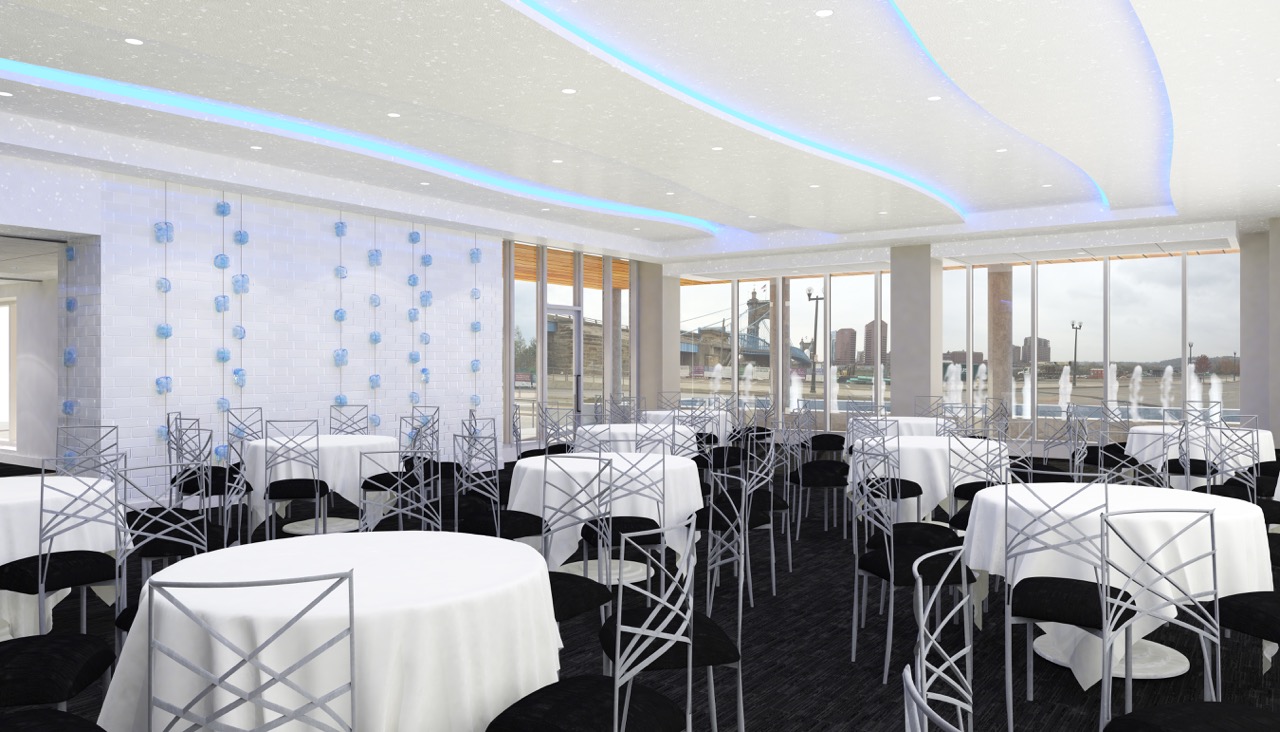 The Annie W. & Elizabeth M. Anderson Pavilion – Thursday, May 14 — 6-7:30 pm
A banquet center on the floor beneath Carol Ann's Carousel will be a setting for parties, weddings and corporate functions. The center features views of the lower park, the Roebling Suspension Bridge and the Ohio River.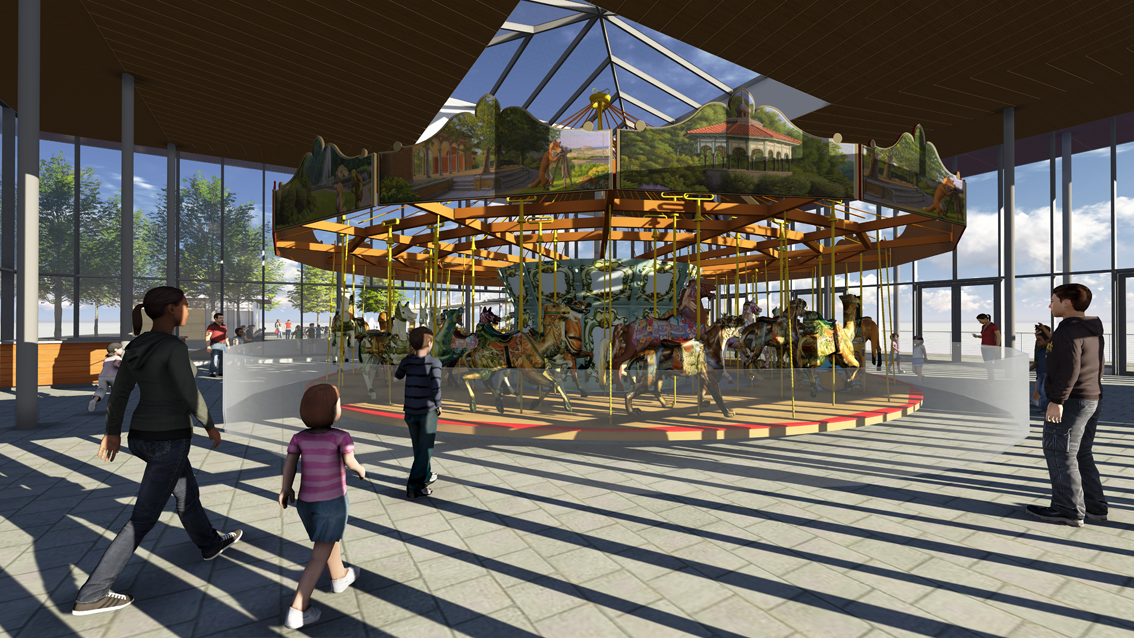 Carol Ann's Carousel – Saturday, May 16 —11 am- Dusk
A hand-carved carousel—a gift of The Carol Ann and Ralph V. Haile, Jr./U.S. Bank Foundation — will be filled with whimsical characters who each have a story to tell about a fascinating aspect of Cincinnati life, history or culture. The carousel—which will be open year 'round—will whirl within a glass building set on a plaza fronting Ted Berry Way. The plaza will contain water features and balconies overlooking the river as well as a comfort station.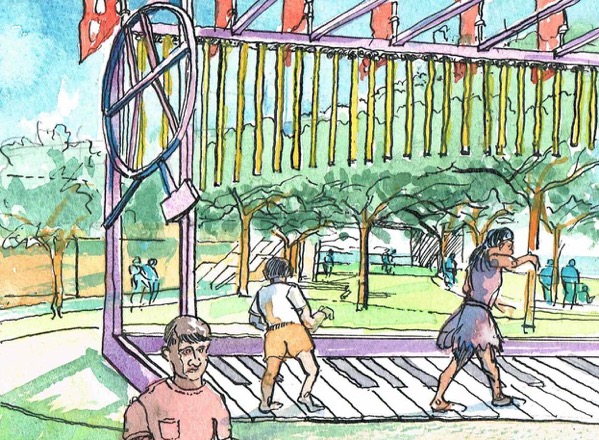 P&G go VibrantScape – Thursday, June 4 — 6-7:30 pm
A series of fun play and exercise features for people of all ages, set within a unique environment. Features are being designed to be interactive and include a giant foot piano, a flying pig, and water pumps and channels.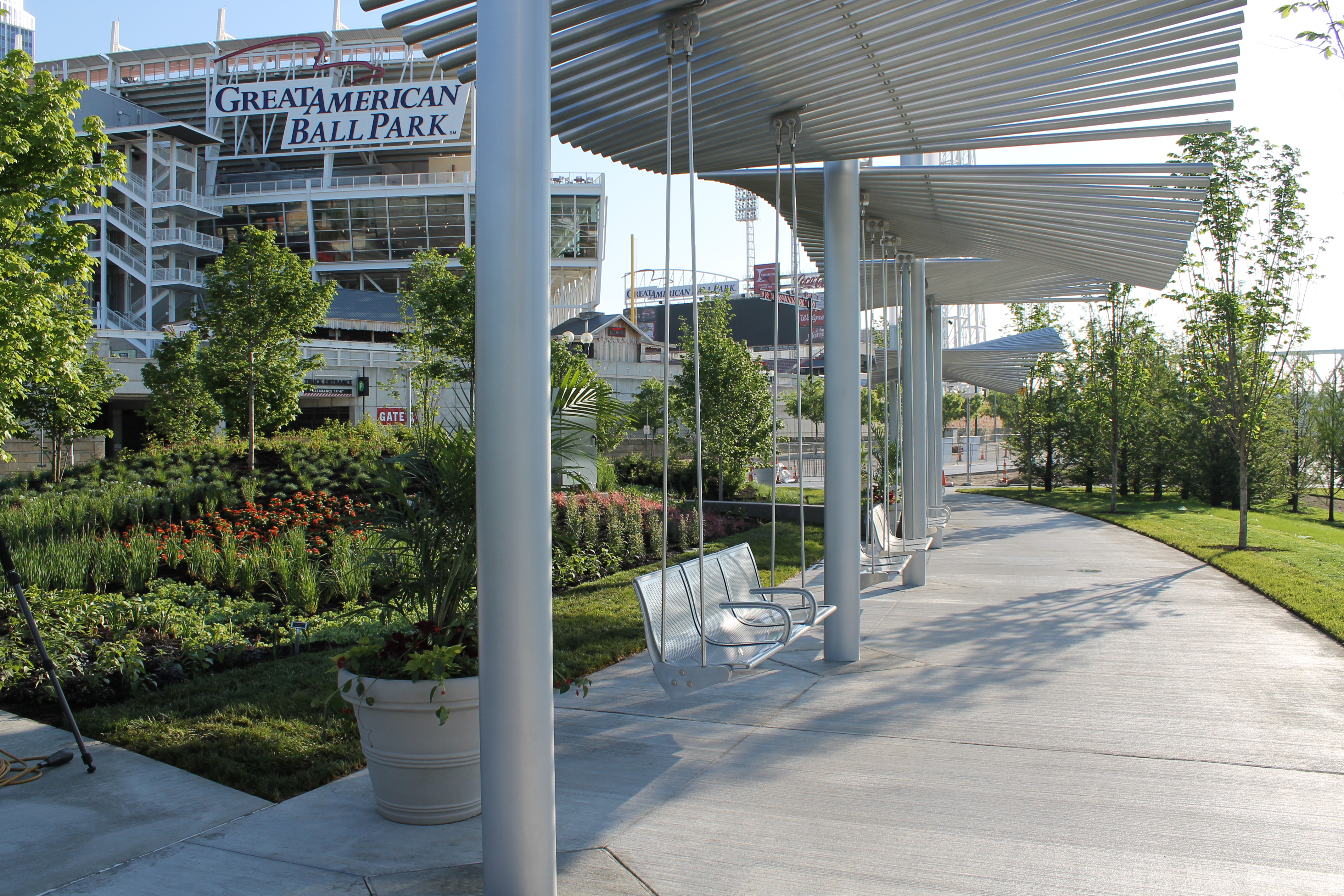 The Rosenberg Swings – Thursday, June 15
The Rosenberg Swings - donated by Dianne and J. David Rosenberg - are family-sized porch swings that afford spectacular views of the Ohio River and the Kentucky shoreline from Smale Riverfront Park. When the first set of swings opened in 2013, they instantly became one of the park's most popular features. Thirteen new swings will now be installed along the new Great Lawn on the west side of the park!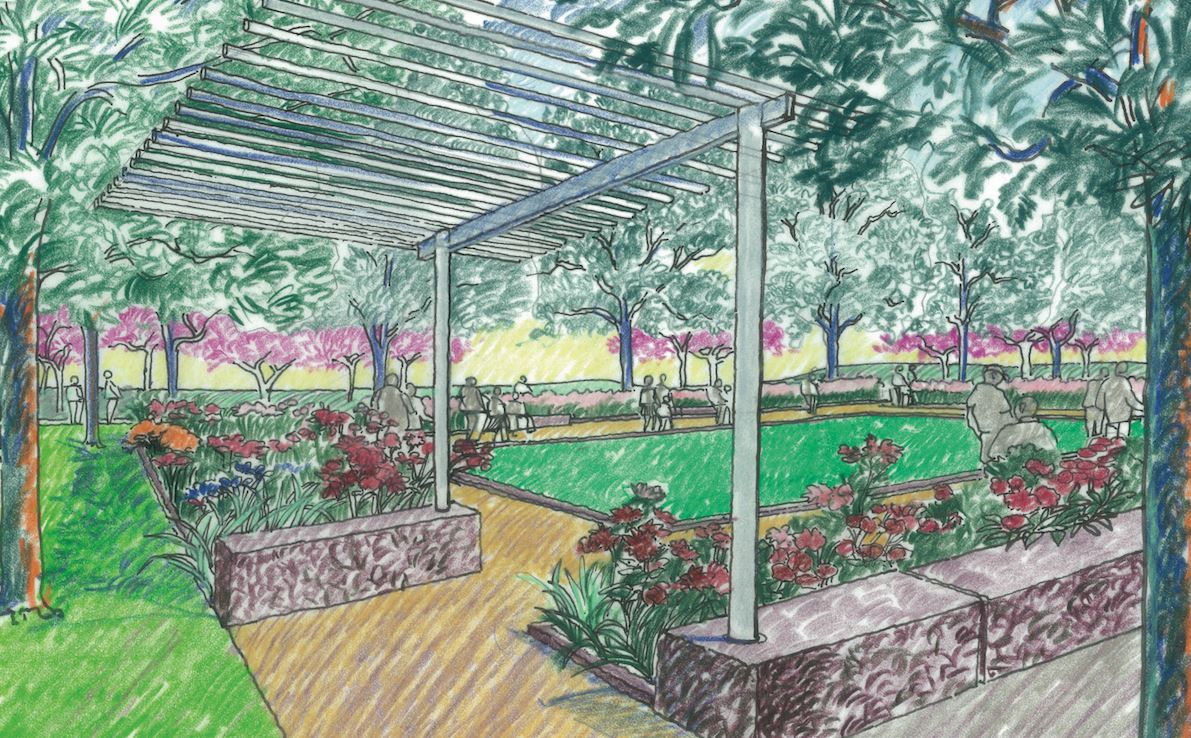 Gardner Family Grove and Rose Garden – Wednesday, June 17 — 4-6pm
This tree grove—similar to yet larger than the existing tree grove on the east side of the park—will contain meandering pathways, understory plantings and several varieties of roses.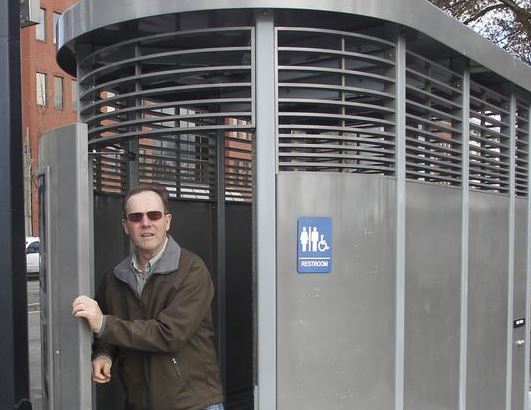 The Portland Loo – Friday, June 19
The new Portland Loo in Smale Riverfront Park is a simple, sturdy flush toilet kiosk. The loo is free to the public, and accessible most of the year—with the exception of the coldest winter months, when pipes (and the toilet seat!) can freeze. The Portland Loo at the park will give our community a clean, safe, and environmentally-friendly restroom facility. You gotta GO!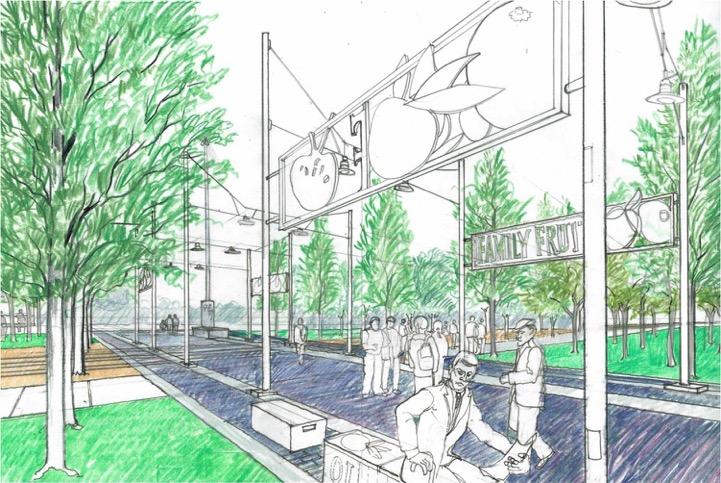 Castellini Esplanade – Sun, June 21 — Noon Ceremony & Afternoon Farmer's Market
The esplanade will be a setting for farmers' markets and other community activities. Its design will reflect the historic character of the produce industry that used to be housed on the site. A picnic terrace will flank both sides of the Castellini Esplanade. The unique setting includes moveable picnic tables on wheels, set on rails in a tribute to the produce distribution center formerly on the site.