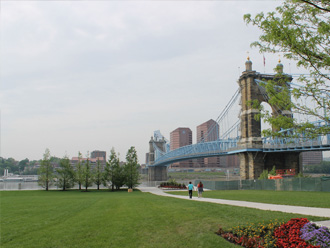 Let's Bring It—TOGETHER
Construction of the Smale Riverfront Park is continuing! Smale Riverfront Park is a park for the generations—a compelling recreational, entertainment and leisure resource for the entire Greater Cincinnati community. Its many and varied features—including fountains, walkways, gardens, event lawns, playgrounds and restaurants—contribute to the emotional and physical health of its citizens; to the economic vitality of the region and to the exceptional quality of life and experience to be cultivated and enjoyed throughout the area.

The planning, development and building of the park has been led by the Cincinnati Park Board— which will sustain the Park as an enduring riverfront destination landmark. Construction of this destination park, located adjacent to The Banks development, has moved forward collaboratively but independently from The Banks project. When completed, the park will extend from the east at Great American Ballpark to west as far as Paul Brown Stadium—flanking the city's beloved Roebling Suspension Bridge.
Here's What's Happening!

CLICK THE IMAGE ABOVE to find out more about Carol Ann's Carousel in Smale Riverfront Park.