The Annie W. & Elizabeth M. Anderson Pavilion in Smale Riverfront Park— a gift of the Anderson Foundation—is located at street level underneath Carol Ann's Carousel. The Pavilion will offer a 350+ seat conference facility, and is ideal for hosting a wide variety of events, banquets and conferences.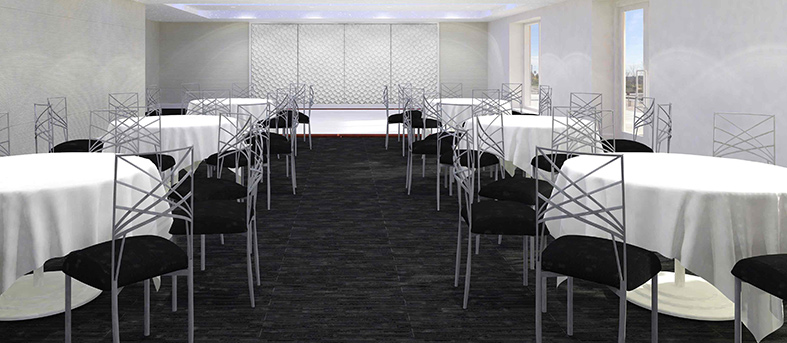 CORPORATE EVENTS
WEDDING CEREMONIES AND RECEPTIONS
HOLIDAY PARTIES
BRIDAL OR BABY SHOWERS
BIRTHDAY AND ANNIVERSARY CELEBRATIONS
LIFE CELEBRATIONS
NON-PROFIT/SOCIAL GROUP GATHERINGS
Rentals, event management and catering are provided by:
Premier Park Events
[email protected]
513-221-2610
Annie and Elizabeth Anderson and the Anderson Foundation
The Anderson Pavilion is named for Elizabeth Mendenhall Anderson and her sister, Annie Wallingford Anderson, were longtime Cincinnati philanthropists who supported numerous area charities throughout their lives, including the Krohn Conservatory, the Cincinnati Zoo and Cincinnati Children's Hospital. Elizabeth (Betty) and Annie, born in 1912 and 1917 respectively, were descendants of Nicholas Longworth, the celebrated statesman and philanthropist who supported the poor and contributed to countless organizations. (Longworth famously donated the land to construct the Cincinnati Observatory.) Catherine Longworth, Nicholas' granddaughter, along with her husband Larz Anderson, became patrons of the arts and encouraged their niece, artist Emma Mendenhall, to cultivate her craft. She did, and became a watercolor artist of significant renown. As part of this gift, the Longworth Room and Mendenhall Room will be established in honor of the donors.
The Anderson Foundation, established in the late 1990s, works to support many of the charitable causes the sisters championed during their lifetimes.