While much of the park's infrastructure (retaining walls, steps, ramps and such) and primary gathering spaces will be achieved with public funds, many of the park's distinctive features—those unique amenities that will transform the Park into a true destination park—can only be accomplished through private funding. These amenities include the distinctive fountains and water features, restaurants, the carousel, expansive gardens, esplanades and more. These features have been designed to be uniquely about Cincinnati. Only when the vision of the park as an enduring new destination landmark is achieved, will the ripple effect become apparent—increased regional economic development, enhanced real estate values, and greatly improved opportunities for citizen health and wellness.
The Cincinnati Parks Foundation is leading the private fundraising effort for Smale Riverfront Park.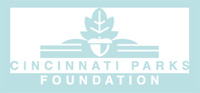 For more information or to make a donation please call Lori McDermott, Development Associate, at 513.861-8970 Ext. 14.